Diener Precision Pumps and Acrotec MedTech to exhibit at EPHJ 2023
The Acrotec Group will be attending EPHJ 2023 (International Exhibition of High Precision) from June 6 to 9 at the Palexpo in Geneva, Switzerland, where visitors will be able to discover the skills and know-how of the group's companies in the field of medtech and watchmaking, as well as their latest innovations and commitment to providing customized solutions.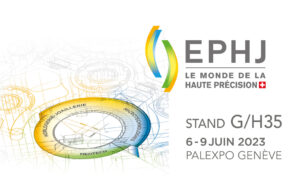 The following Medtech companies will be represented :
The companies of the Watchmaking/Jewelry division that will exhibit on the same stand:
Butech is specialized in quality wire drawing and micro-drawing for industrial applications.
Capsa is a company with a wide range of products and a large production potential in the watch industry.
Décovi is specialized in the precision turning of components for the watch industry and for medical instruments and equipment.
EasyDec is a company specialized in high precision screw-cutting for watchmaking micro-components.
Générale Ressorts produces high quality barrel springs and energy modules for the watch industry.
H2i offers innovative, high-performance and accurate measuring tools for the watchmaking industry.
Horlyne is a leader in the manufacture of high-end oscillating weights.
KIF Parechoc manufactures watch components for mechanical watches.
mu-DEC is specialized in the micro-turning of components with complex geometry.
Mimotec produces components using the UV-LIGA process which is inspired by microelectronic technologies.
Petitpierre is specialized in the creation of complex assembly machines and high-end tooling.
Pierhor-Gasser manufactures stones for watchmaking and medical applications.
Politrempe is specialized in the finishing of microcomponents in the field of high-end watchmaking.
Precipro is specialized in the machining of precious metals for the production of jewelry. It also offers its services to the watchmaking market.
Sigatec manufactures micromechanical components in silicon.
STS is specialized in the surface treatment of all components of the watch movement and the medical sector.
WatchDEC offers micro-component turning services for the watchmaking and medical industries.
Click here to get your badge. You will be able to meet us and the different companies of the Group on our booth G/H35 during the 2023 edition of the EPHJ, which will be held from June 6 to 9 at the Palexpo in Geneva, Switzerland. You will have the opportunity to discover the latest trends and innovations in the field of high precision for MedTech and Watchmaking. Diener Precision Pumps companies and the entire group will be happy to present their products, expertise and commitment to providing customized solutions to their customers.